Gabrielle Grooters on Aug 6th 2021
Apple picking, jumping in leaves, and hayrides are super fun! But sometimes the best part of fall is simply cozying up in the great indoors. Keep reading to find out how the most basic home decor, like wreaths, throw pillows, and dining table centerpieces, can transform your space into the cozy autumn retreat you've always dreamed of.
THE ENTRYWAY
The focal point of every home and the first place to invite guests into your space is your Front Door. Whether you have a front porch, grand entryway, or traditional door with a single step - these simple ideas will get your home blushing with an abundance of all things Fall.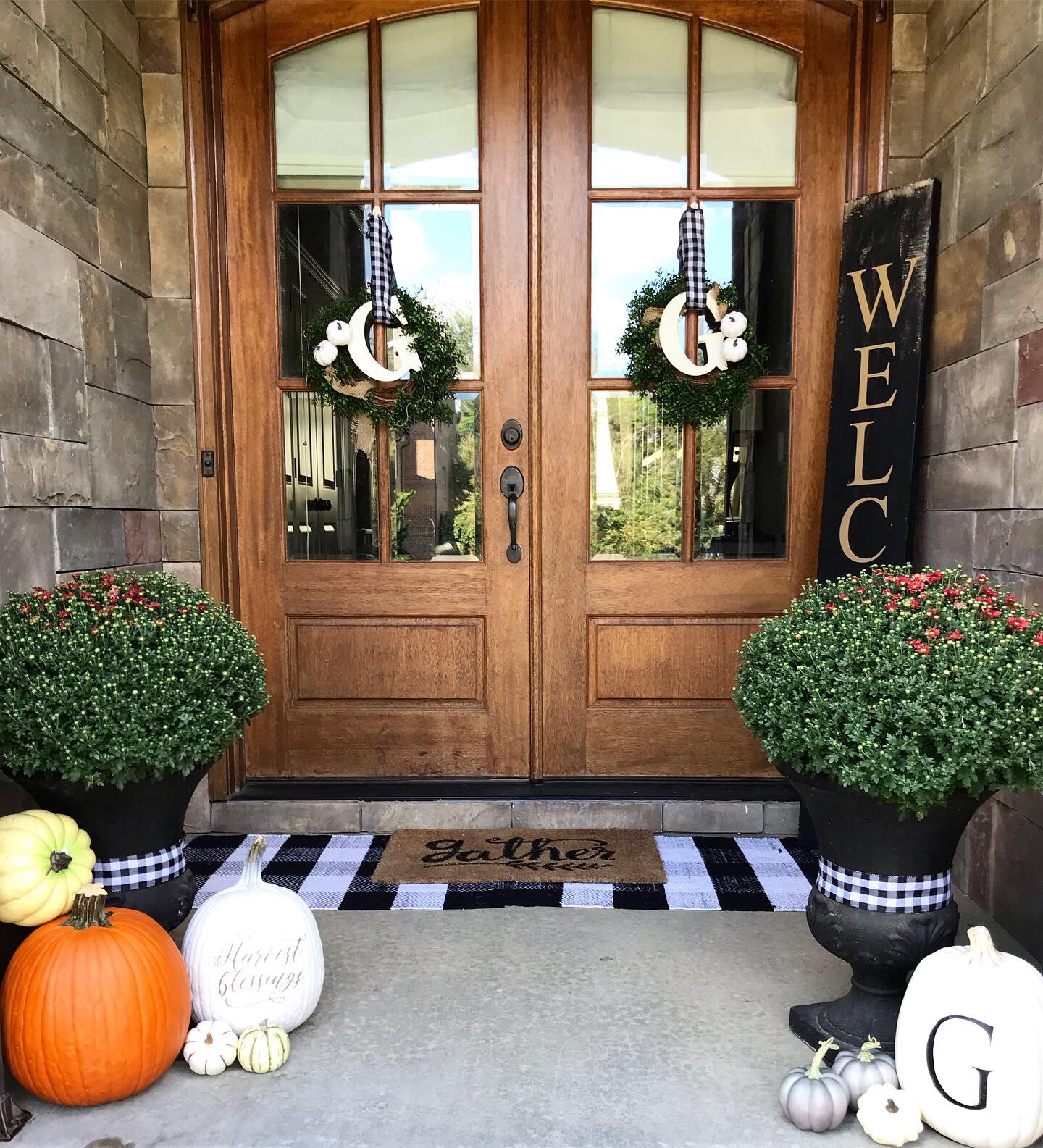 The Recipe
Mums and Pumpkins of any color offer an inexpensive and beautiful way to decorate. A fun Fall activity we always love is supporting our local Farmers market and Pumpkin Patch by purchasing unique pumpkins, gourds and Mums to decorate with. We love this family tradition!
Now, you all know how we love all things vinyl. This year I had spray painted one of my orange pumpkins white and added the Harvest Blessings Vinyl to it. The monogrammed "G" pumpkin is also vinyl and I've had this faux pumpkin for 5 years. It sits on my front porch and the vinyl is as good as new. Another fun way to personalize your Front Porch this fall.
Next up - WELCOME BOARD. I created custom vinyl spelling WELCOME 6" letters in mocha. I found an old board from a construction site, painted it black and applied the vinyl - super easy and inexpensive way to add a little "WELCOME" to your space. I like to add a little ribbon on top to tie in with my wreaths, or sometimes I just leave the ribbon off - it's just a fun way to add a little extra something. You can purchase this welcome vinyl from our website - just click the image below to shop.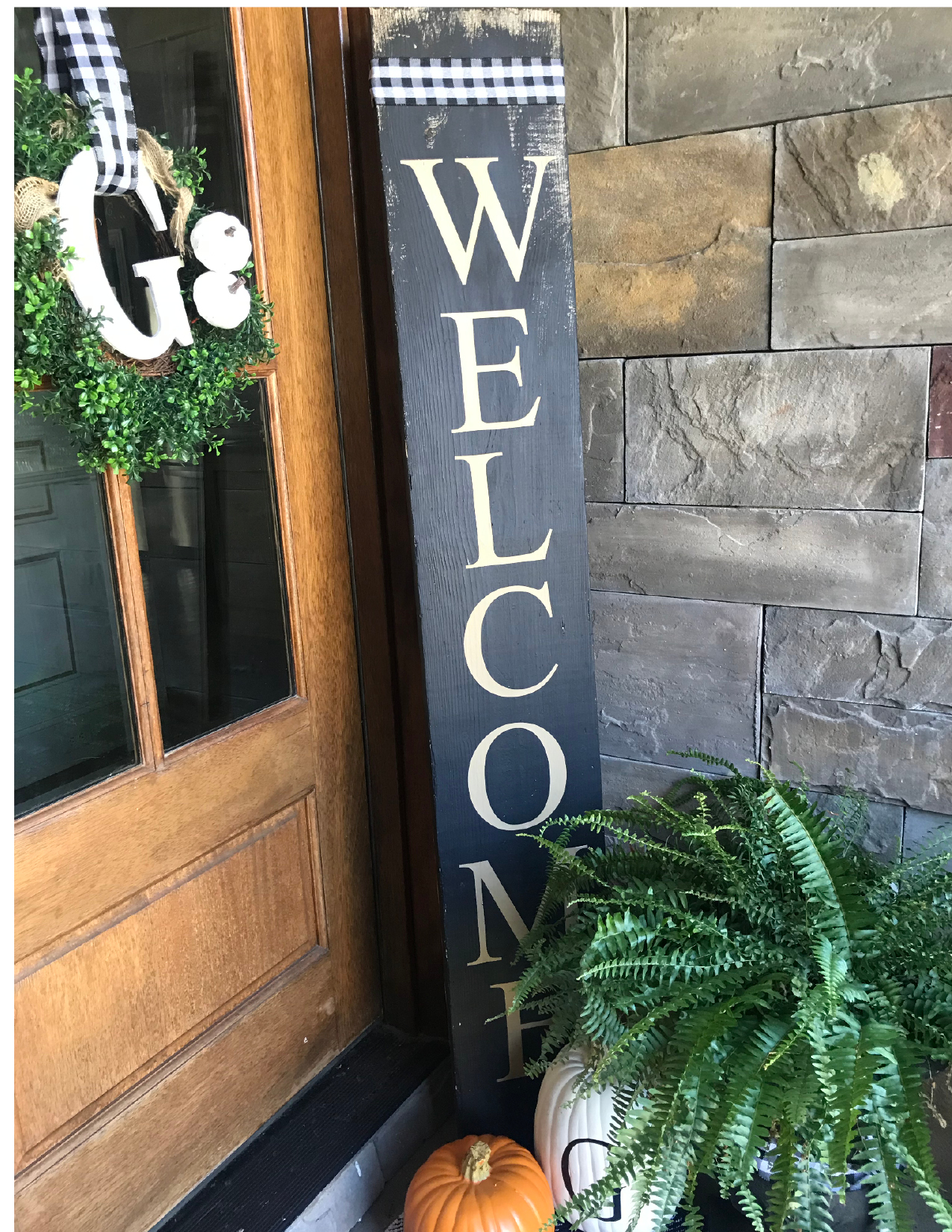 First impressions are everything and I love letting my guests know how excited I am to see them. I found this fun rug at Target! It expresses exactly how excited I get when guests come to visit.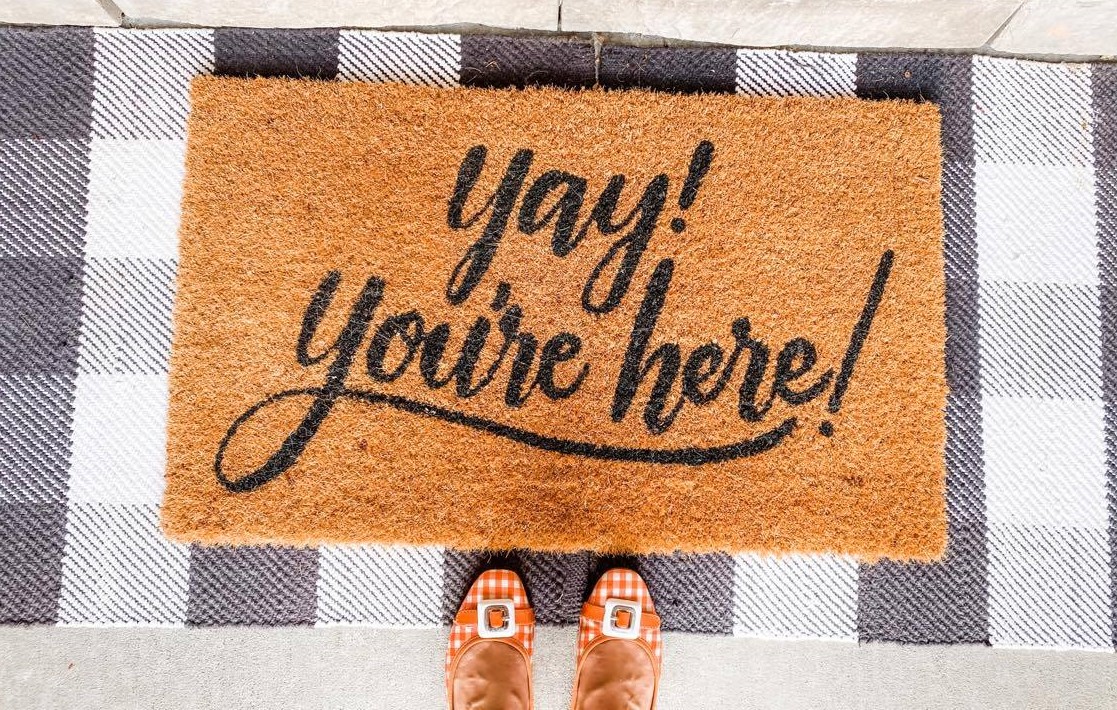 Wreaths can truly make all the difference in your entryway. My go to place for wreaths is … Marshalls and Kirklands. We always find beautiful wreaths at great prices there.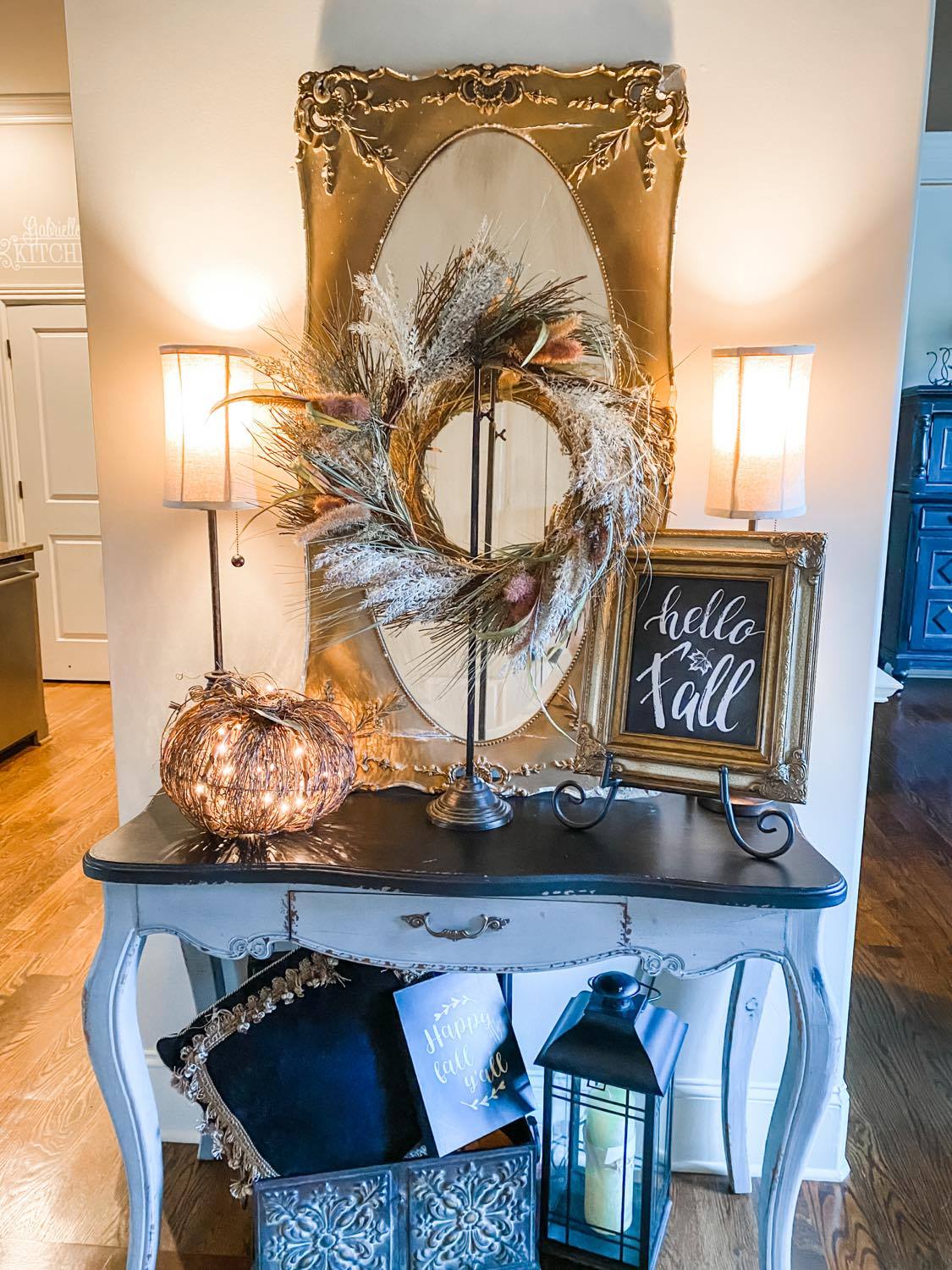 Every chance I get you'll find Simply Said Designs. Layered with the pillow you will find the Simply Said Distressed Black Box along with a fun fall vinyl design applied in Harvest Gold. I also love using printables! The Hello Fall Printable above by Daffodil Creek was placed in an old vintage frame I had on hand. I love the way this looks.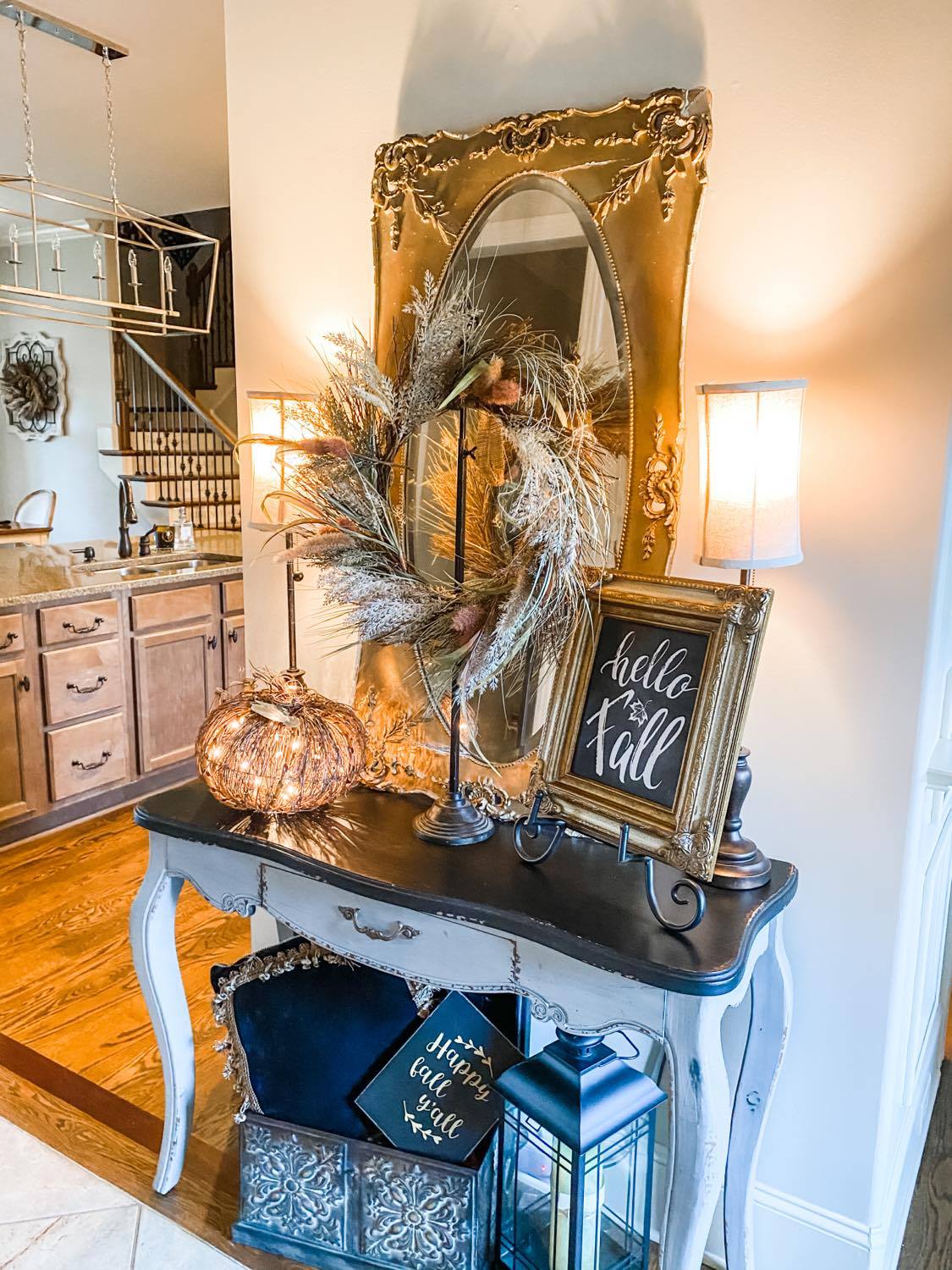 FAMILY ROOM
Adding a pop of color, a significant piece of décor, new pillows, throws, and fall florals are all ways you can add new life into your home for FALL!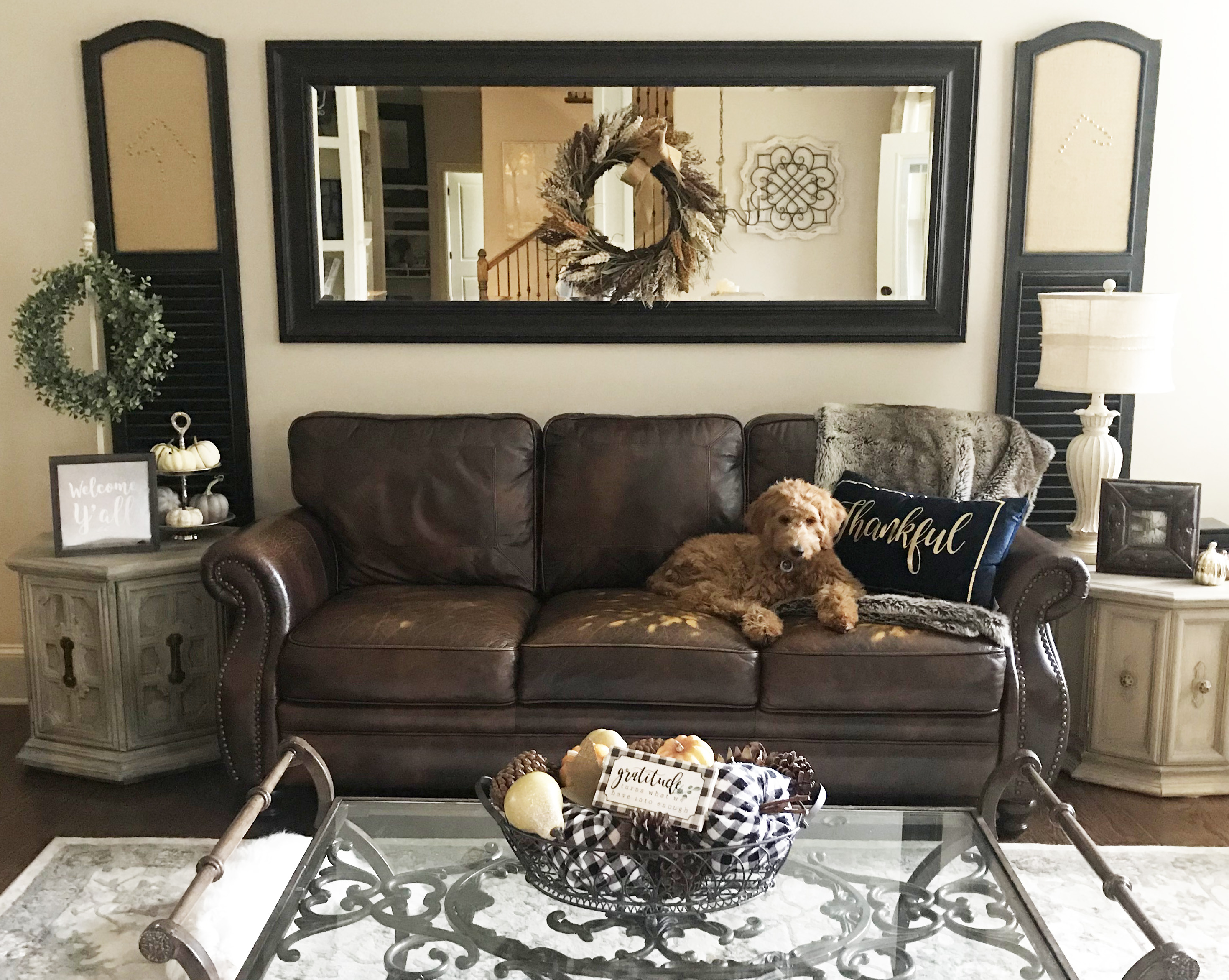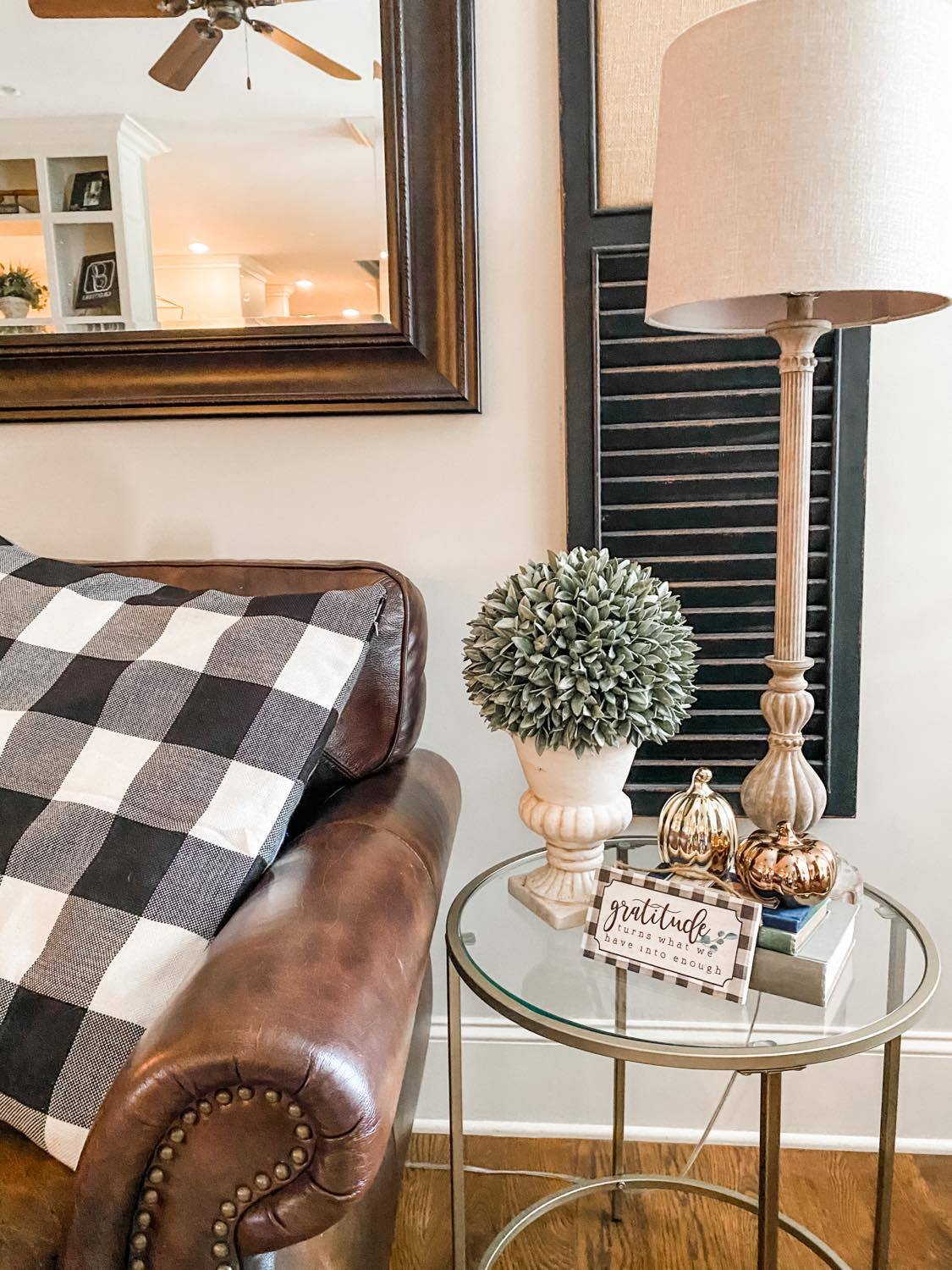 Creating small Vignettes with seasonal decor and adding meaningful notes of gratitude help create beautiful fall memories.

THE DINING ROOM
A beautiful Table Setting with layers of burlap, patterned plates, pumpkins, the sparkle of crystal and autumnal colors creates the perfect pallet for a beautiful Fall dining experience. This is my Sister-n-law's Dining Room @Coon_Farms, I had to add this because it's perfection and we wanted you all to see it!
THE BEDROOM

Simple and elegant is what I was going for here. A blank pallet is a great place to add pops of color with pillows, florals and of course our beautiful Simply Said Rustic Tray with Fall Design.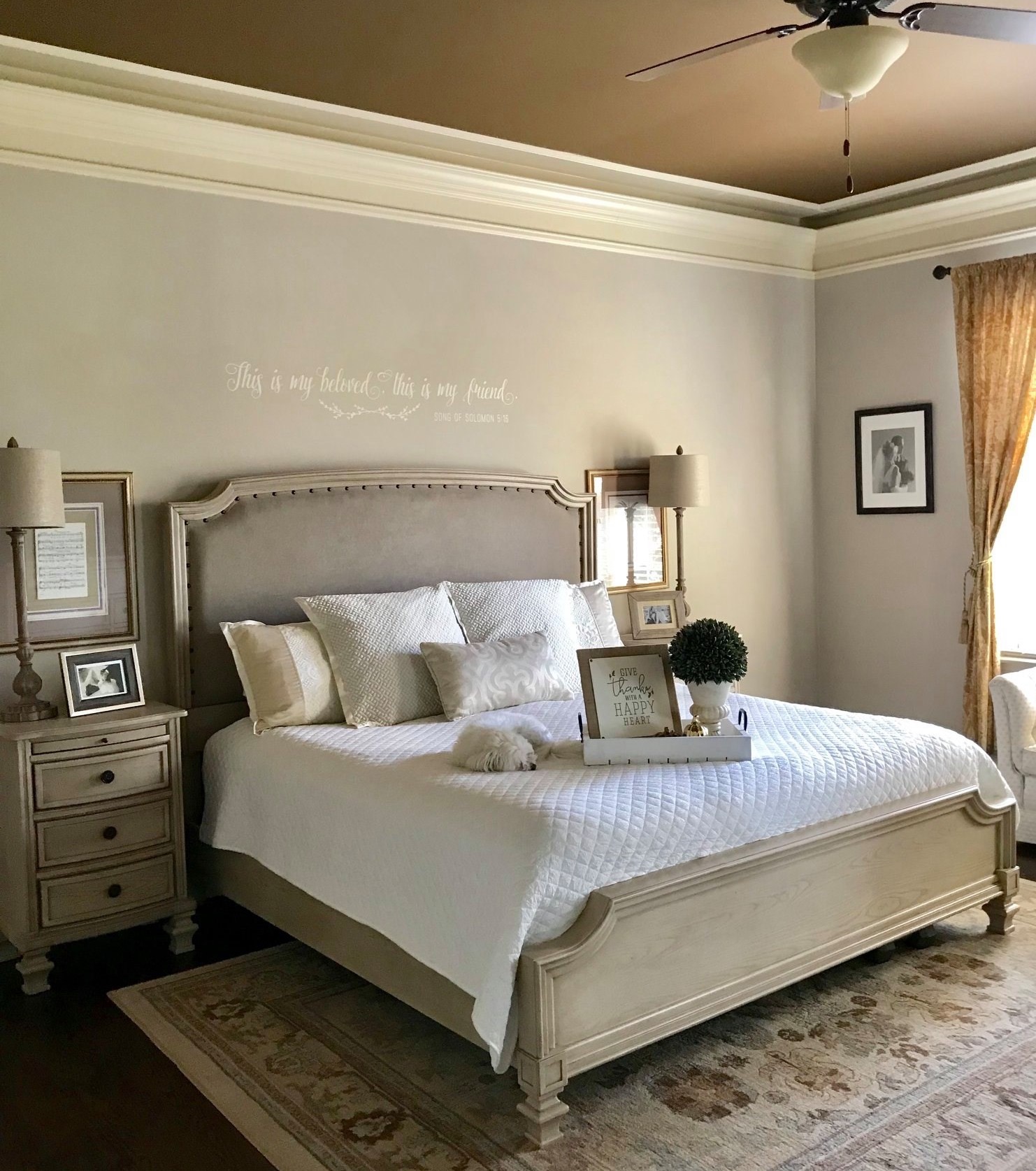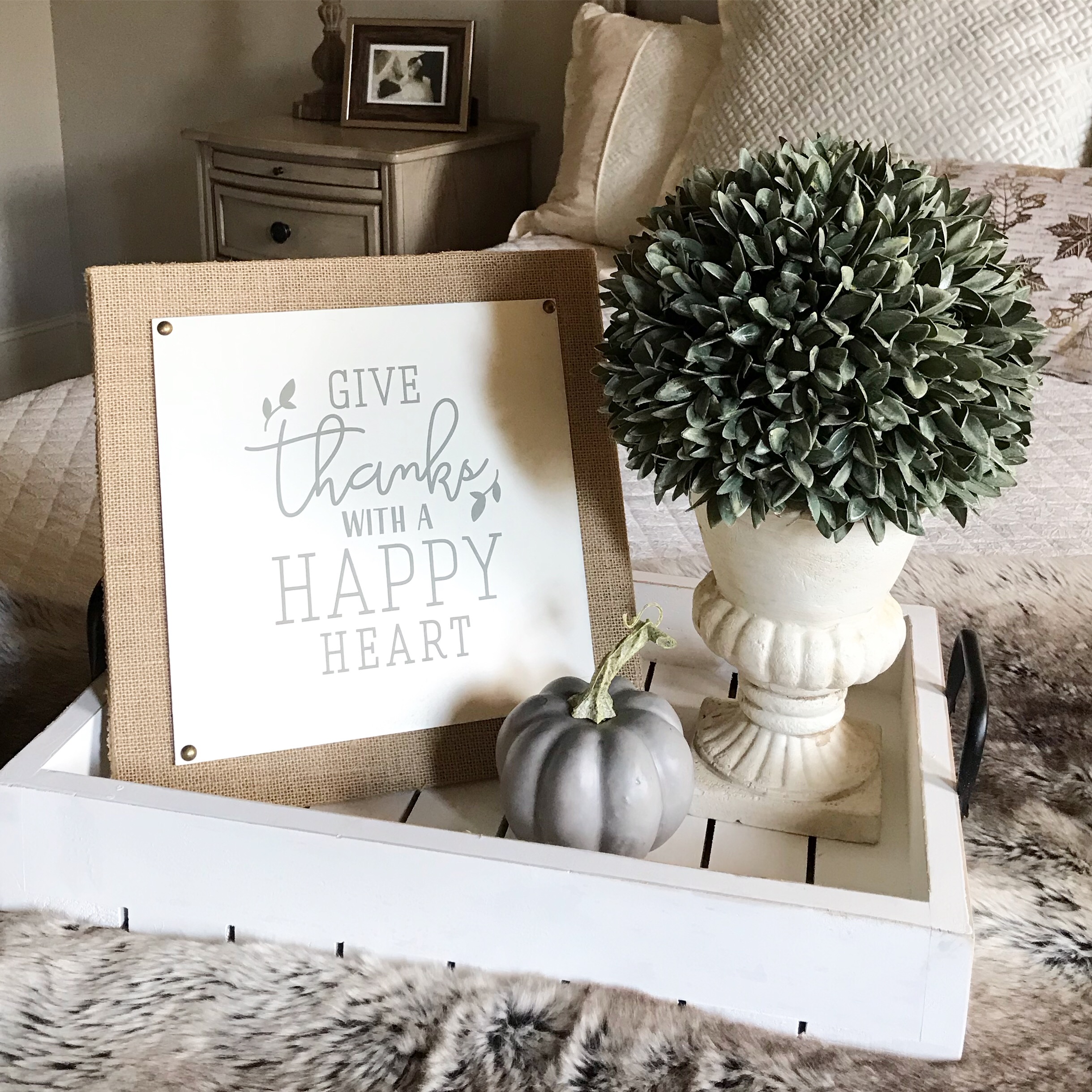 Links:
THE BACK PORCH
If you have a back yard or porch entertaining space, it's always fun to add fun and festive décor to make it come alive. Fall greenery, pumpkins, mums, seasonal pillows and throws make it quick, easy and affordable to change things up in a flash. Here are some ideas to inspire you.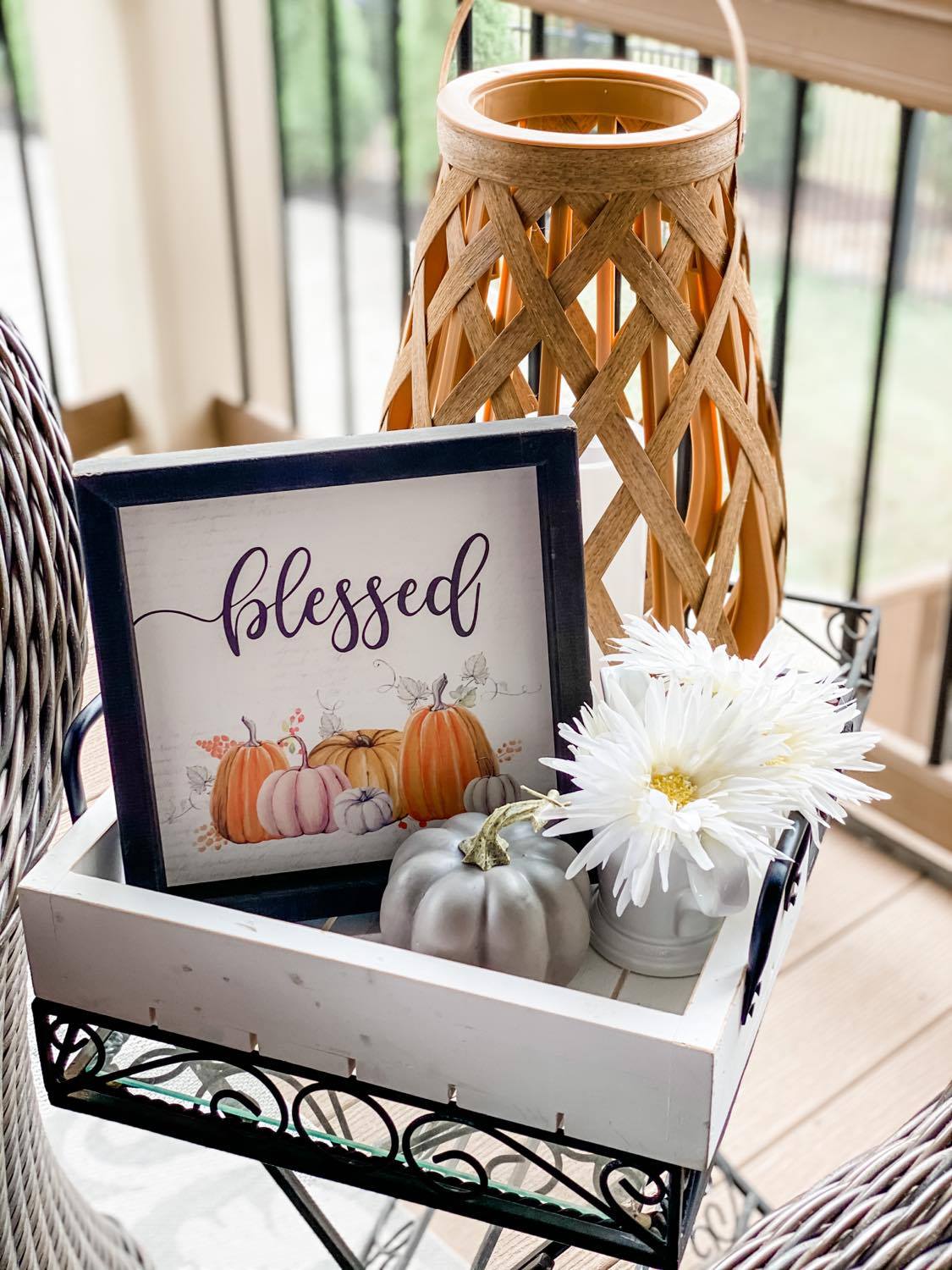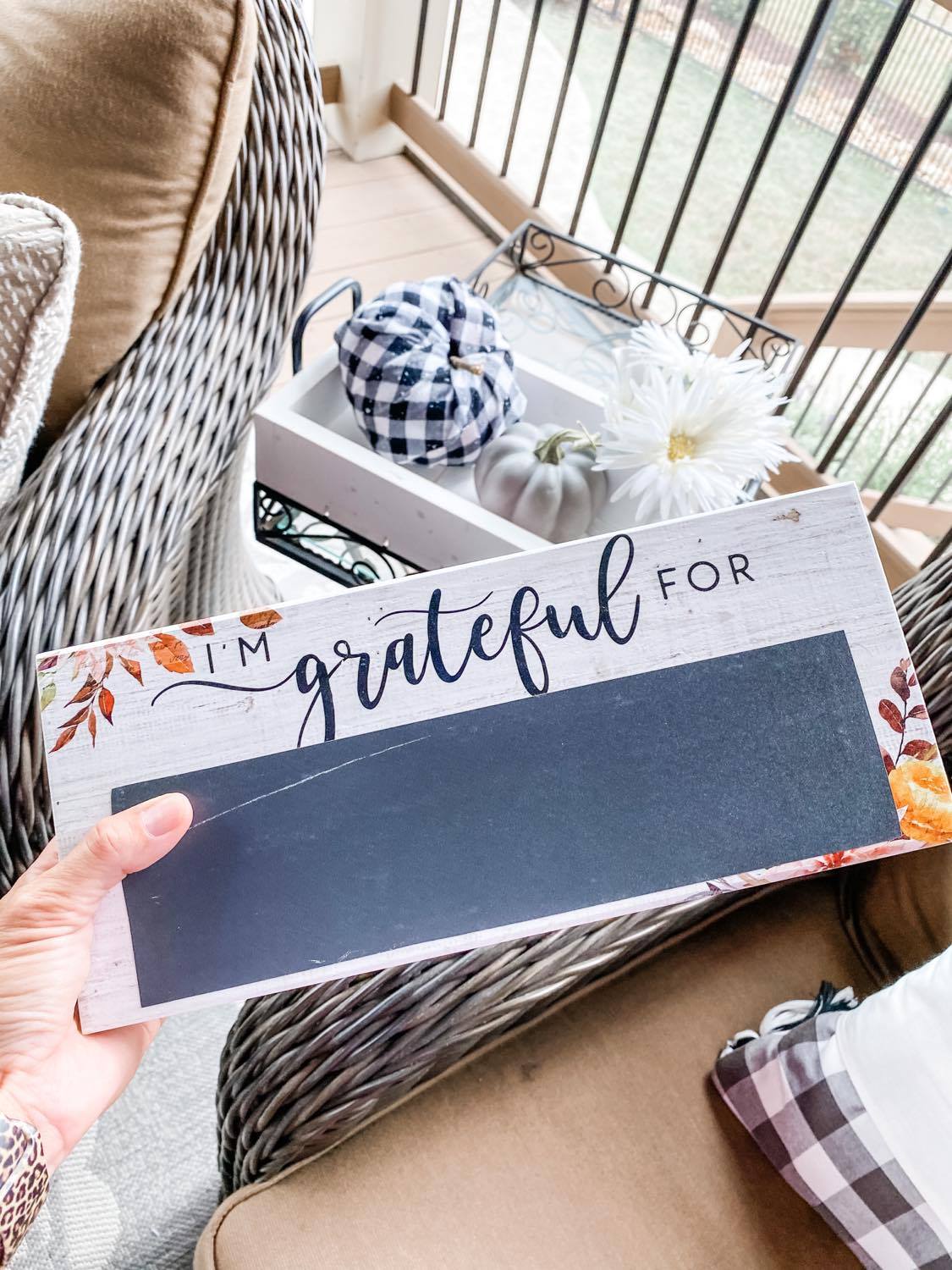 I love this Grateful Chalk Talk from Simply Said. A piece of Chalk comes placed in the back and you can record what you are grateful for each day. Getting ready to write something new today..."sunshine days" perhaps!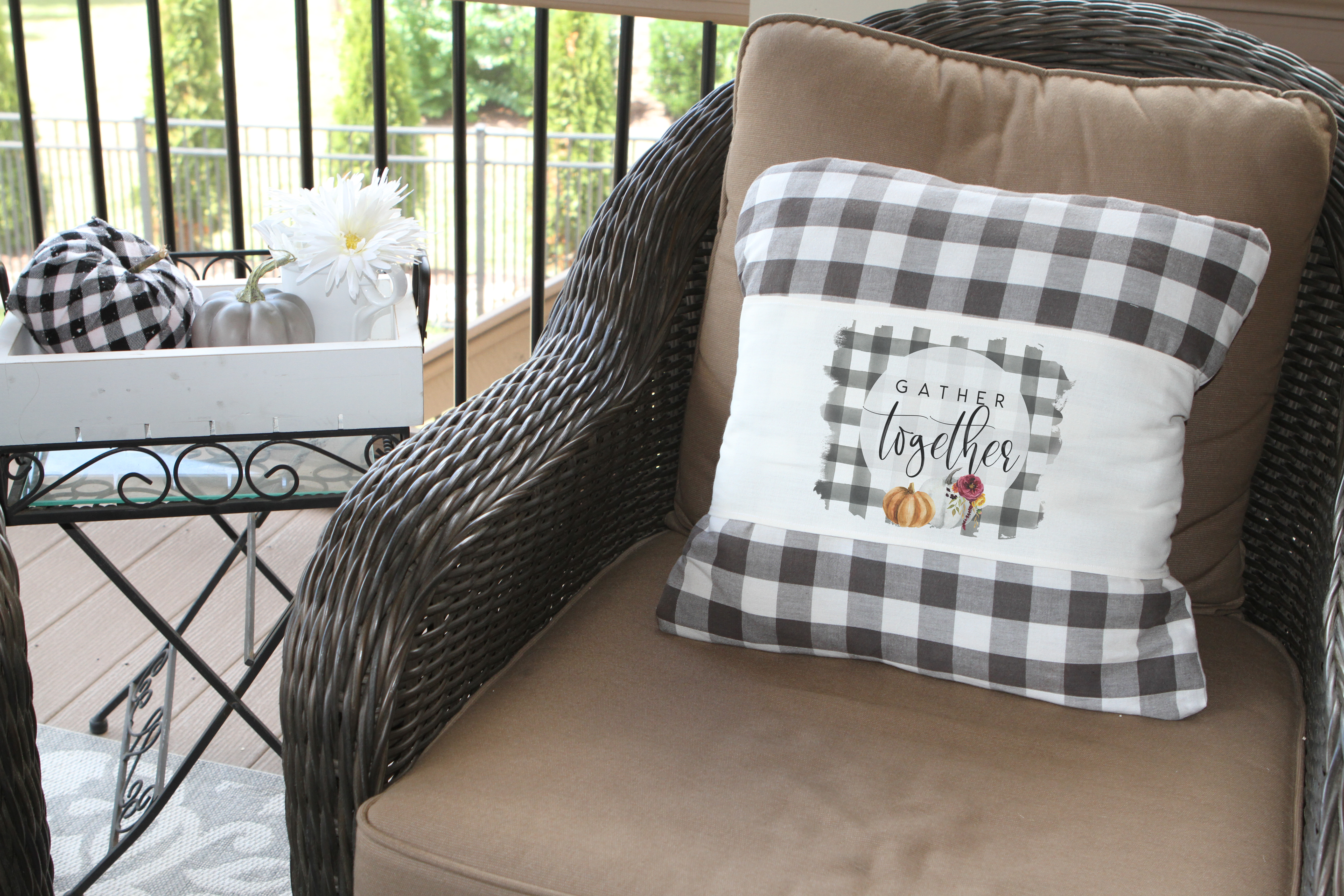 Creating Cozy Vignettes for comfortable lounging is what Fall is all about. I'm in love with our Simply Said Pillow Hugs. You can change out decor easily and not have a million pillows to store! I love our Pillow Hugs. This one can be found here: PILLOW HUG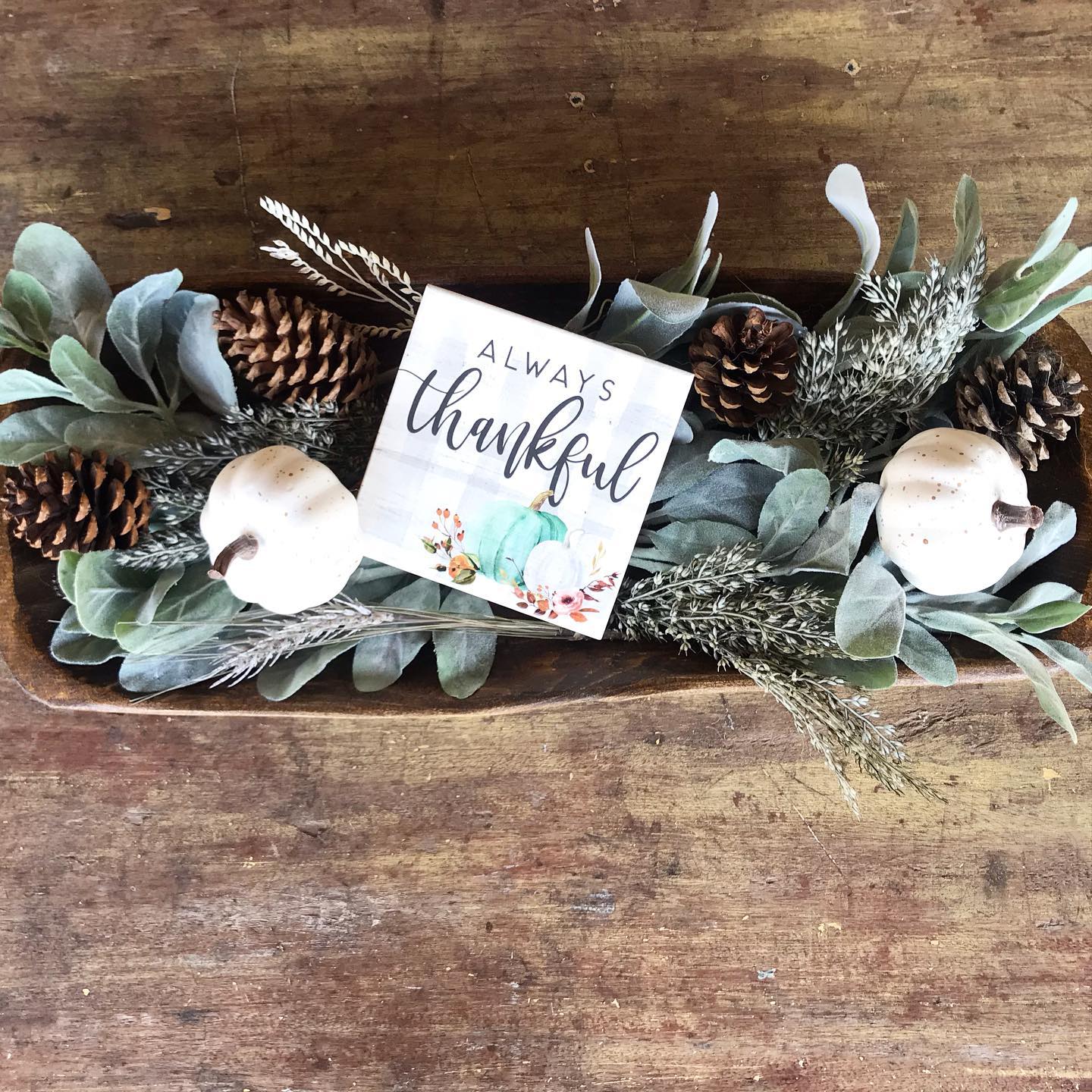 The Simply Said Rustic Dough Bowl is a must have this fall. You can style it in so many different ways. My favorite is adding fall greenery, a few pumpkins and of course a beautiful Simply Said Small Talk Square.

Links:Rustic Dough Bowl Small Talk Square
STYLING TRAYS
One of my favorite things about Fall is all of the wonderful textures and colors you can use this time of year. Incorporating vintage white, cotton, galvanized steel, buffalo plaid and colorful pumpkins gives all of the fall feels on this tray.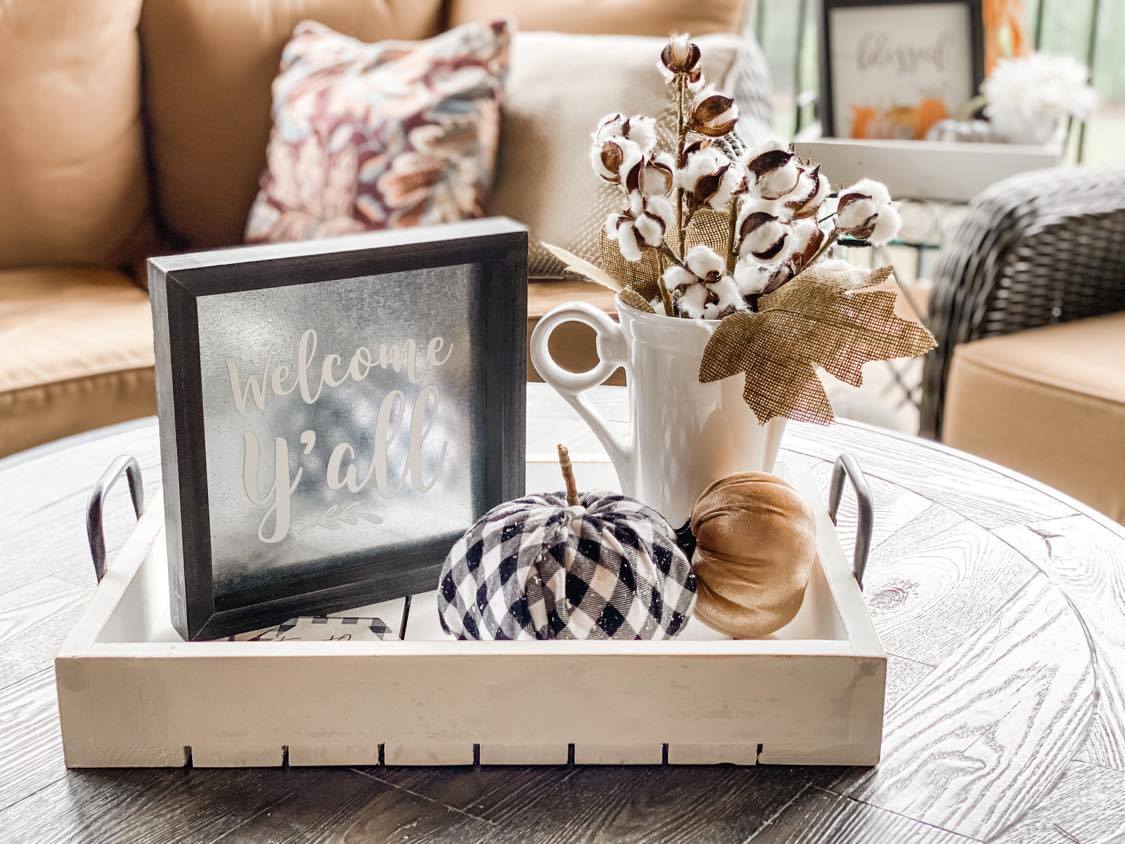 Last but not least our Fall Bucket List is our favorite way to keep track of our Autumnal musings! I created this look by purchasing an old wood board, painted it with Chalk Board Paint and added my Chalk Creation. I like to place mine in a standing easel to display it so when we sit on the porch we can keep track of the Fall activities we still have time to do!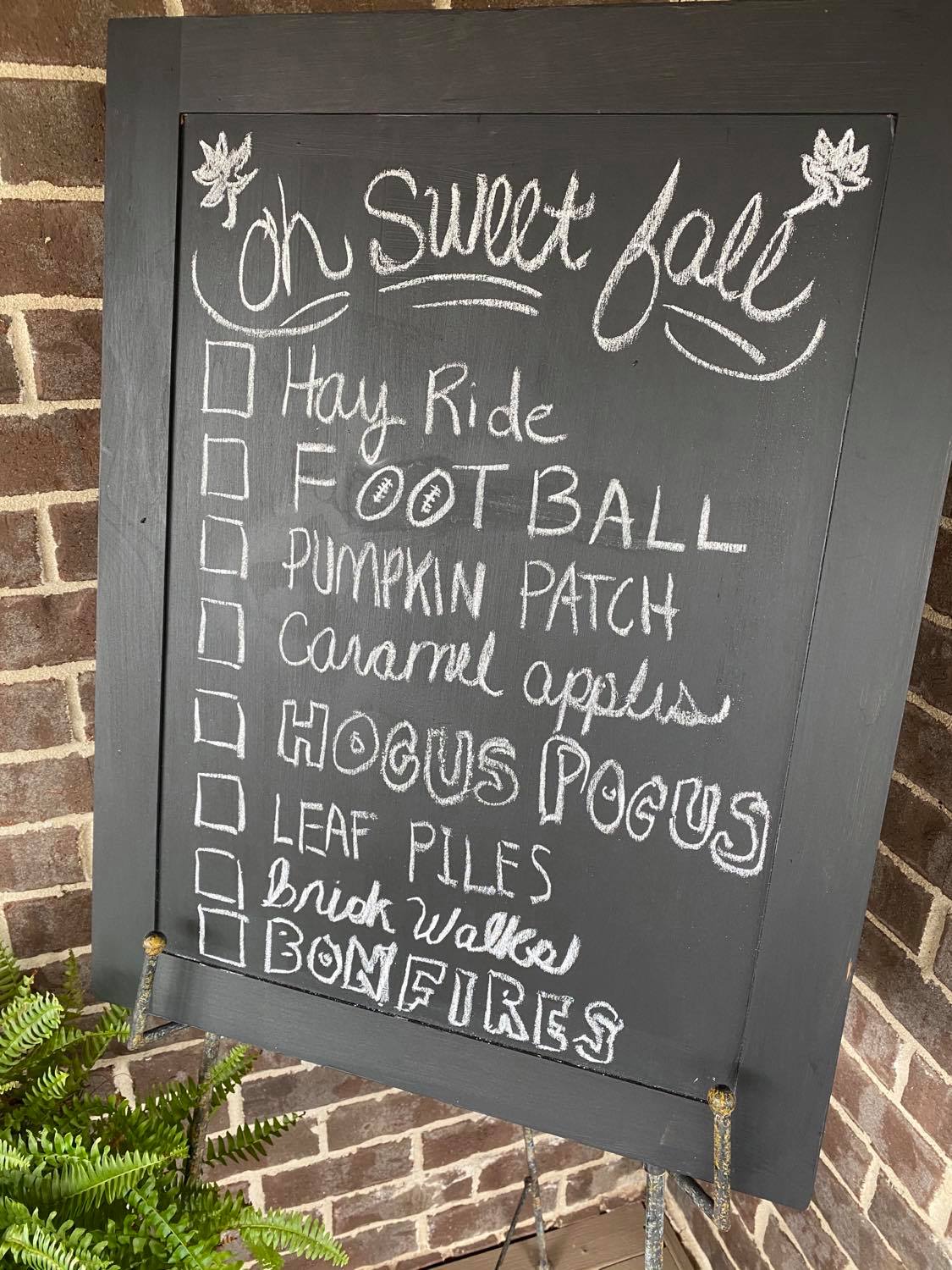 We hope you enjoyed our little Fall Home Tour! Check out the bottom of the page for some links to our favorite pieces in this article.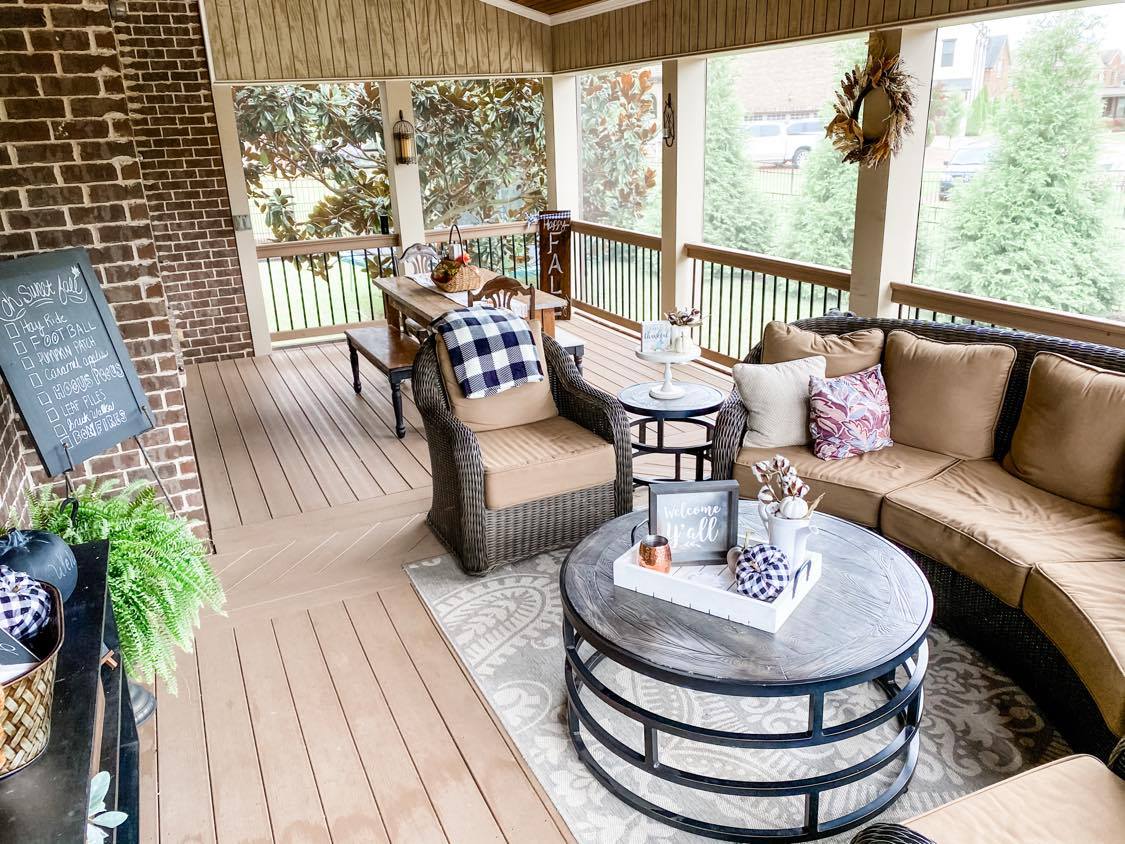 SIMPLY SAID LIFESTYLE COLLECTION
SIMPLY SAID FALL VINYL DESIGNS