Gabrielle Grooters on Sep 18th 2023
Fall will be officially here September 23, and while I can't deny I am not one to wish away summer too quickly, each time a new season approaches, I find myself saying, "This is my favorite season!" Maybe it's the magical way our world transforms right before our eyes or the excitement of change. One thing I know for certain, "Fall is proof that change is beautiful!" Capturing the "magic of change" and taking the time to display it in our homes helps to celebrate each seasonal transformation a little more. Today I wanted to share how I have brought the inspiration of Fall's natural beauty indoors. I hope it inspires you!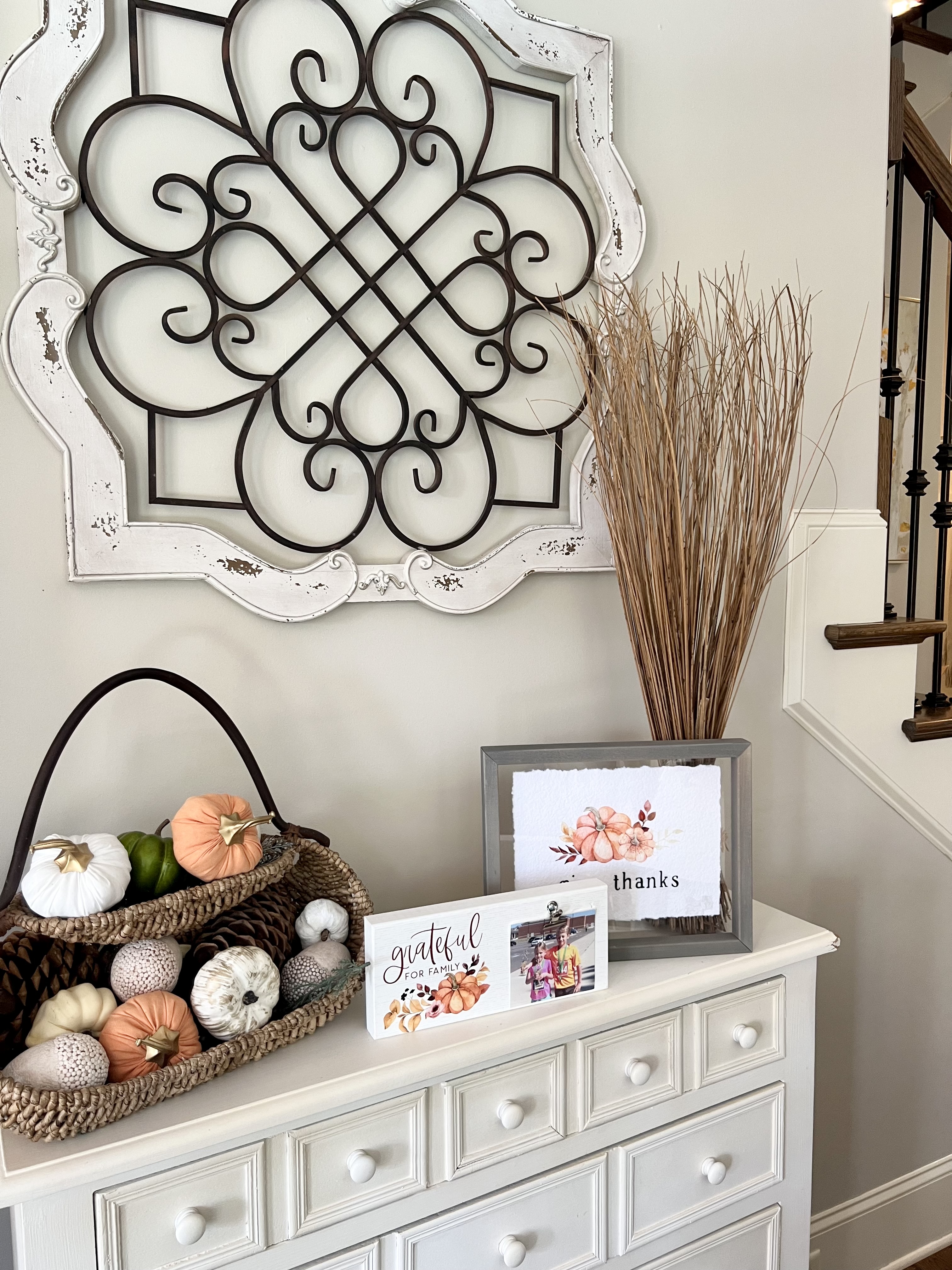 Before I start my seasonal decorating, here are a few tips that I always implement.
1. Pick a color pallete and carry it throughout your home.
2. Add color and patterns with Pillows, Pillow Hugs, Throws, and Florals (faux and real) to bring in your color pallete with little cost.
3. Create texture and dimension with Layers! Watch for how I do this when styling trays, pillows, and throws on my furniture.
Now let's dig into the details. Last year I was focused on more neutral, transitional décor for Fall. This year as I was exploring my color pallet, I found myself drawn to the rich, vibrant jewel tones with splashes of bold patterns like the leopard print below.
Because "Fall is my favorite Color," and there are so many gorgeous patterns and colors this season provides, you'll find I used a few different color pallets for my different living spaces, because sometimes it's fun to break the decorating rules!
THE ENTRYWAY
The focal point of every home and the first place to invite guests into your space is your Front Door. Whether you have a front porch, grand entryway, or traditional door with a single step - these simple ideas will get your home blushing with an abundance of all things Fall.
The Recipe
Mums and Pumpkins of any color offer an inexpensive and beautiful way to decorate. A fun Fall activity we always love is supporting our local Farmers market and Pumpkin Patch by purchasing unique pumpkins, gourds and Mums to decorate with. We love this family tradition!
Now, you all know how we love all things vinyl. This year I had spray painted one of my orange pumpkins white and added the Harvest Blessings Vinyl to it. The monogrammed "G" pumpkin is also vinyl and I've had this faux pumpkin for 5 years. It sits on my front porch and the vinyl is as good as new. Another fun way to personalize your Front Porch this fall. Did you know? Simply Said can help you create a custom vinyl design? Click here to find out more!
Next up - WELCOME BOARD. I created this Welcome board using Simply Said Vinyl. I found an old board from a construction site, painted it black and applied the vinyl - super easy and inexpensive way to add a little "WELCOME" to your space. I like to add a little ribbon on top to tie in with my wreaths, or sometimes I just leave the ribbon off - it's just a fun way to add a little extra something. You can purchase this welcome vinyl from our website - just click the image above to shop.
First impressions are everything and I love letting my guests know how excited I am to see them. I found this fun rug at Target! It expresses exactly how excited I get when guests come to visit.
THE FOYER!
I love adding mixes of colors, patterns and items that mean something to me in my space. This mirror is a family heirloom. It's chipped and cracked but that is one of the things I love about it. I added fall elements by hanging a fall wreath from a simple command hook and style the fabulous Simply Said Dough bowl in front of the mirror with florals and pumpkins. I love how this vignette turned out.
FAMILY ROOM
Adding a pop of color, a significant piece of décor, new pillows, throws, and fall florals are all ways you can add new life into your home for FALL!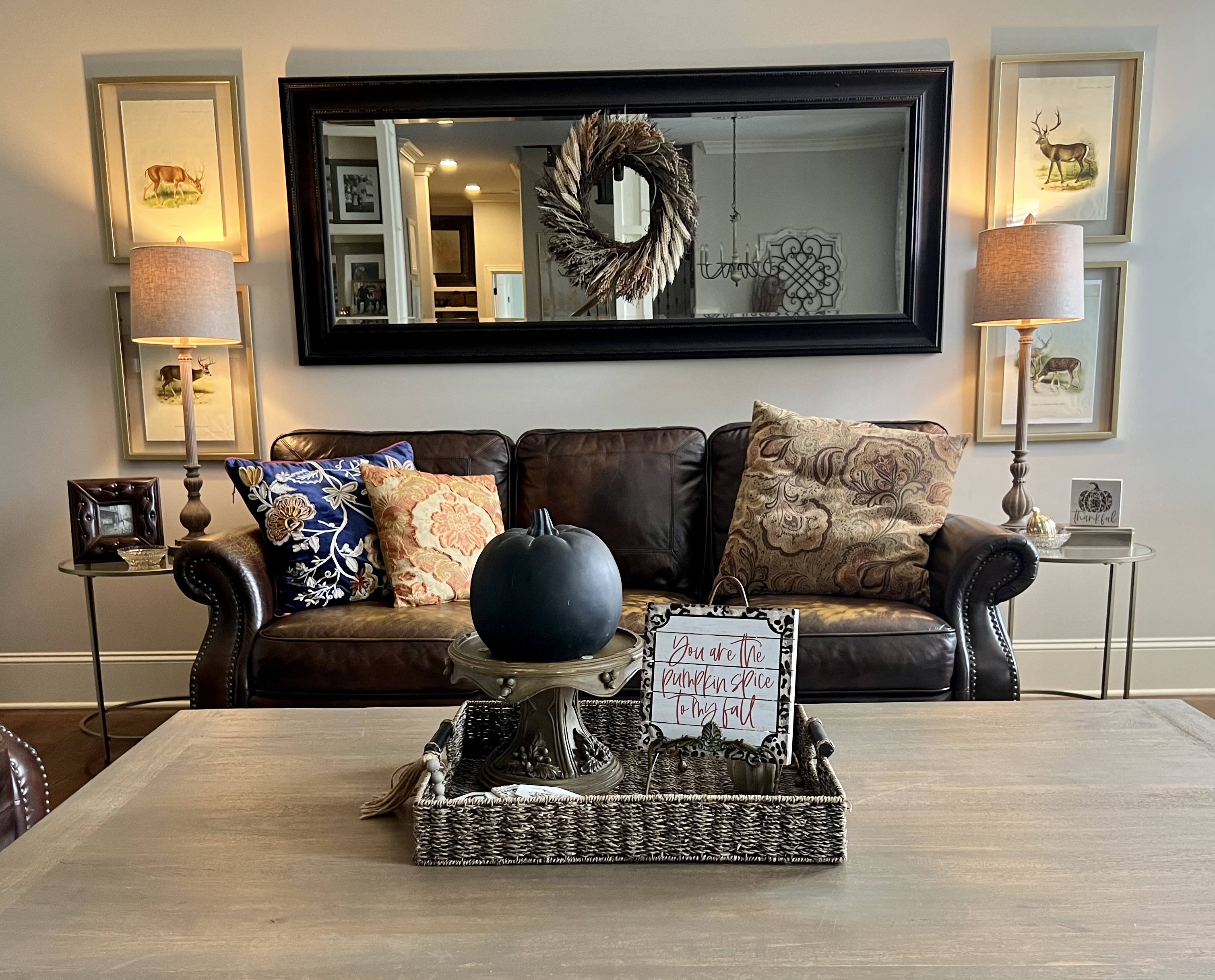 Creating small Vignettes with seasonal decor and adding meaningful notes of gratitude, humor, or a little whimsy share special sentiments with everyone who enters our space.
As I stated earlier, wreaths are a fabulous way to introduce color and texture into your space. I added navy blue velvet pumpkins and navy blue florals to this wreath. I think it ties the whole room together as the focal point of the space. It was an inexpensive way to update the wreath while bringing in my new color pallete. I love how it turned out.
Sentiments like this one, "You are the pumpkin spice to my fall," are just fun ways to share a little whimsy throughout your home. I love Simply Said's Leopard Print Fall Collection. You'll see this collection throughout my home. The Leopard print will always be a fan favorite in my home and I think it's just a great pattern to accentuate truly anything! #allthingsleopardprint
Simply Said even has coordinating Leopard Print Coasters! Click on the image below to shop this look.
THE DINING ROOM
A beautiful Table Setting with layers of textured chargers, patterned napkins, pumpkins, the sparkle of copper and autumnal colors creates the perfect pallet for a beautiful Fall dining experience. No table setting would be complete without a Simply Said Table Favor. We love to use our Petite Hanging Accents as sweet adornments for table settings.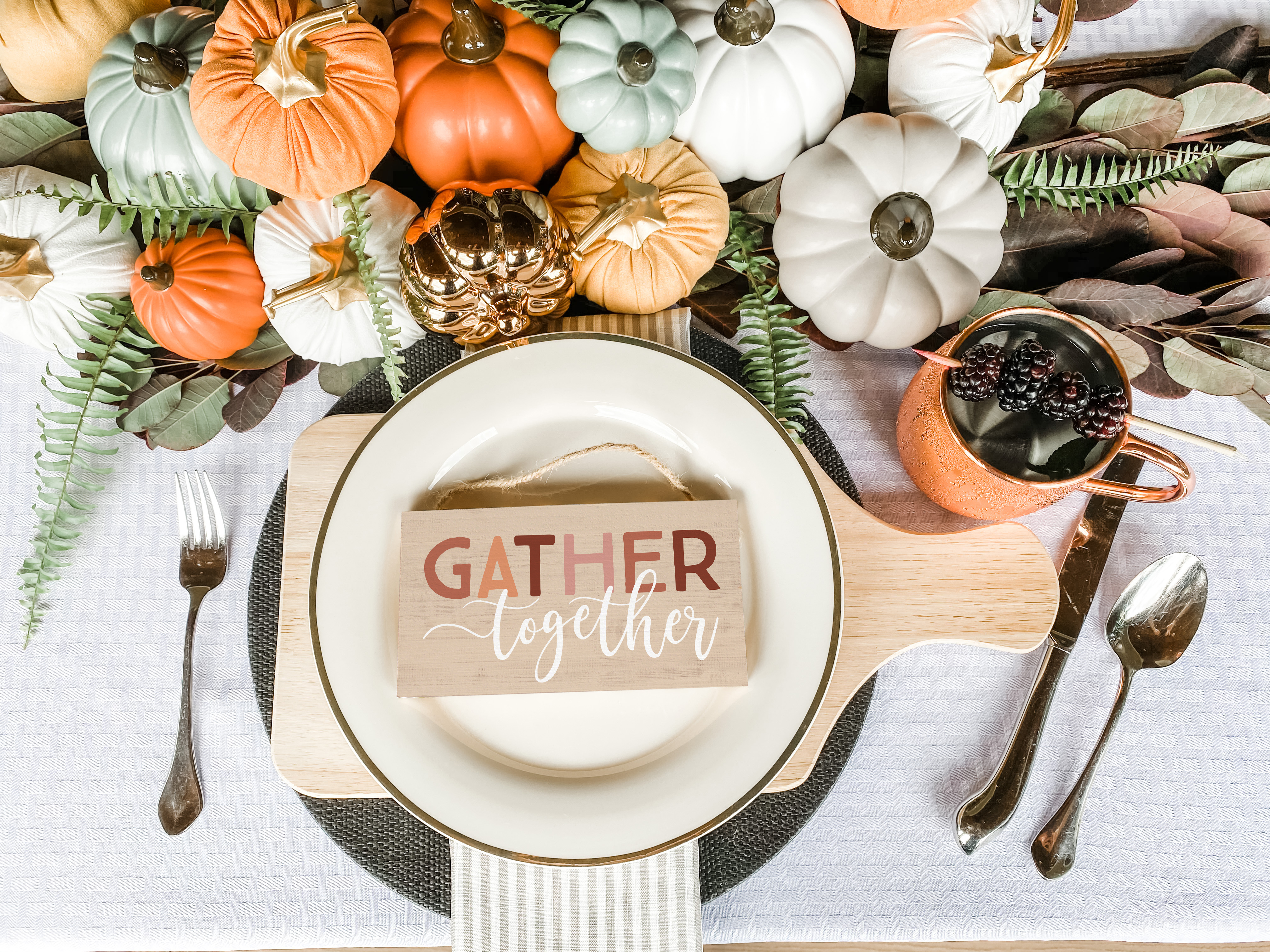 THE KITCHEN TABLE
I don't like a bare kitchen table. I used a pedestal as my base and added a few pumpkins surrounding my Simply Said Small Talk Square to bring a little something extra into this space. It just makes the table a little happier!

PS..the Gold and Copper Pumpkins you see everywhere in my home - Dollar Tree $1. Best score ever!
SPECIAL PLACES
I usually hang my apron here, but it also houses the perfect place for our Mini Hanging Canvas. Love this look.
BOOKSHELVES
If you have a bookshelf in your living space, it can be one of the best places to showcase your Fall Decor. I like to keep mine fairly neutral with Golds and lighter tones. One of my favorite finds was the Simply Said Long Horn art in the middle of the bookshelf. I love the colors and beauty of htis piece and it fills that space perfectly!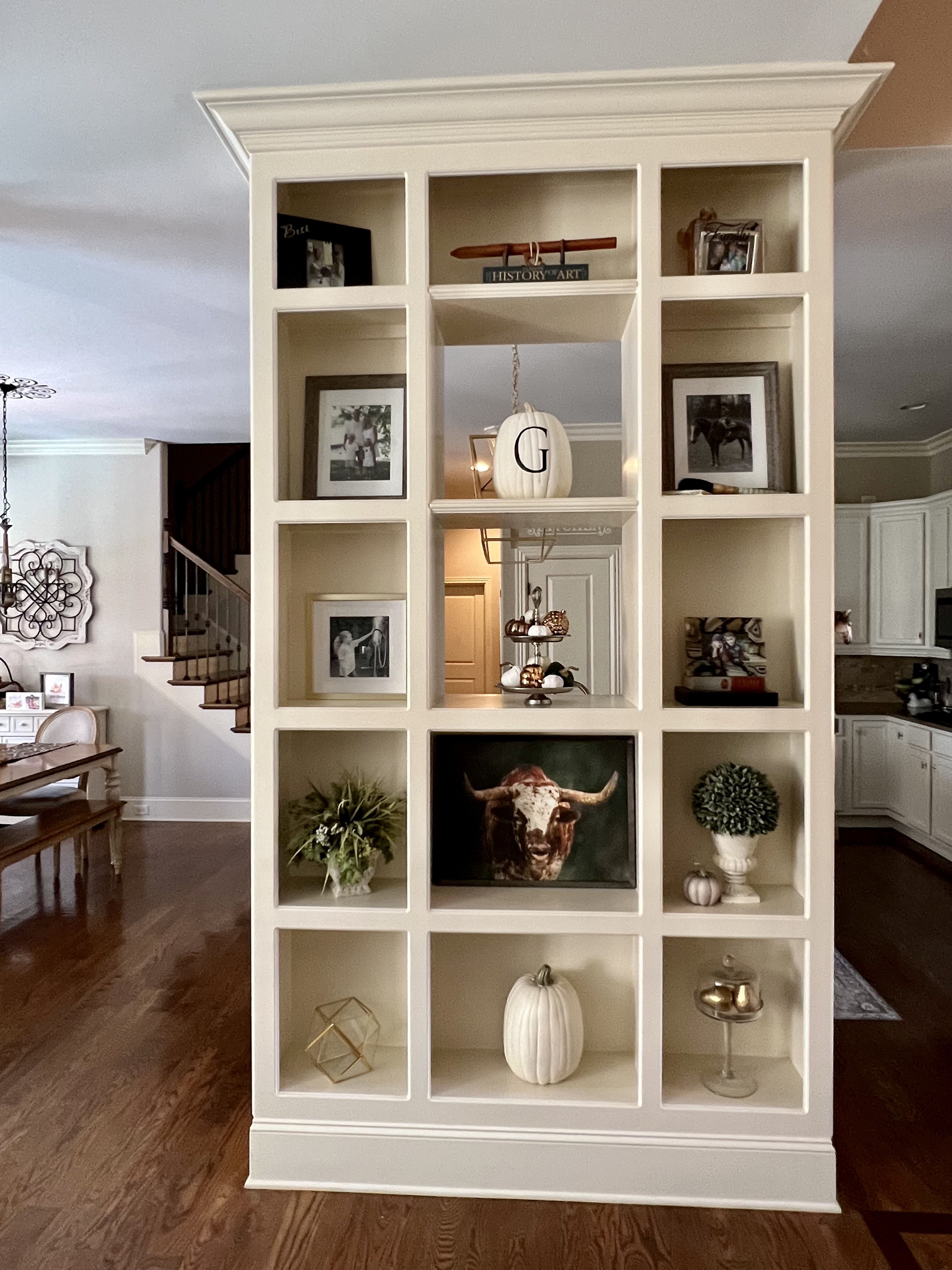 THE BEDROOM
Simple and elegant is what I was going for here. A blank pallet is a great place to add pops of color with pillows, florals and of course our beautiful Simply Said Rustic Tray with Fall Design.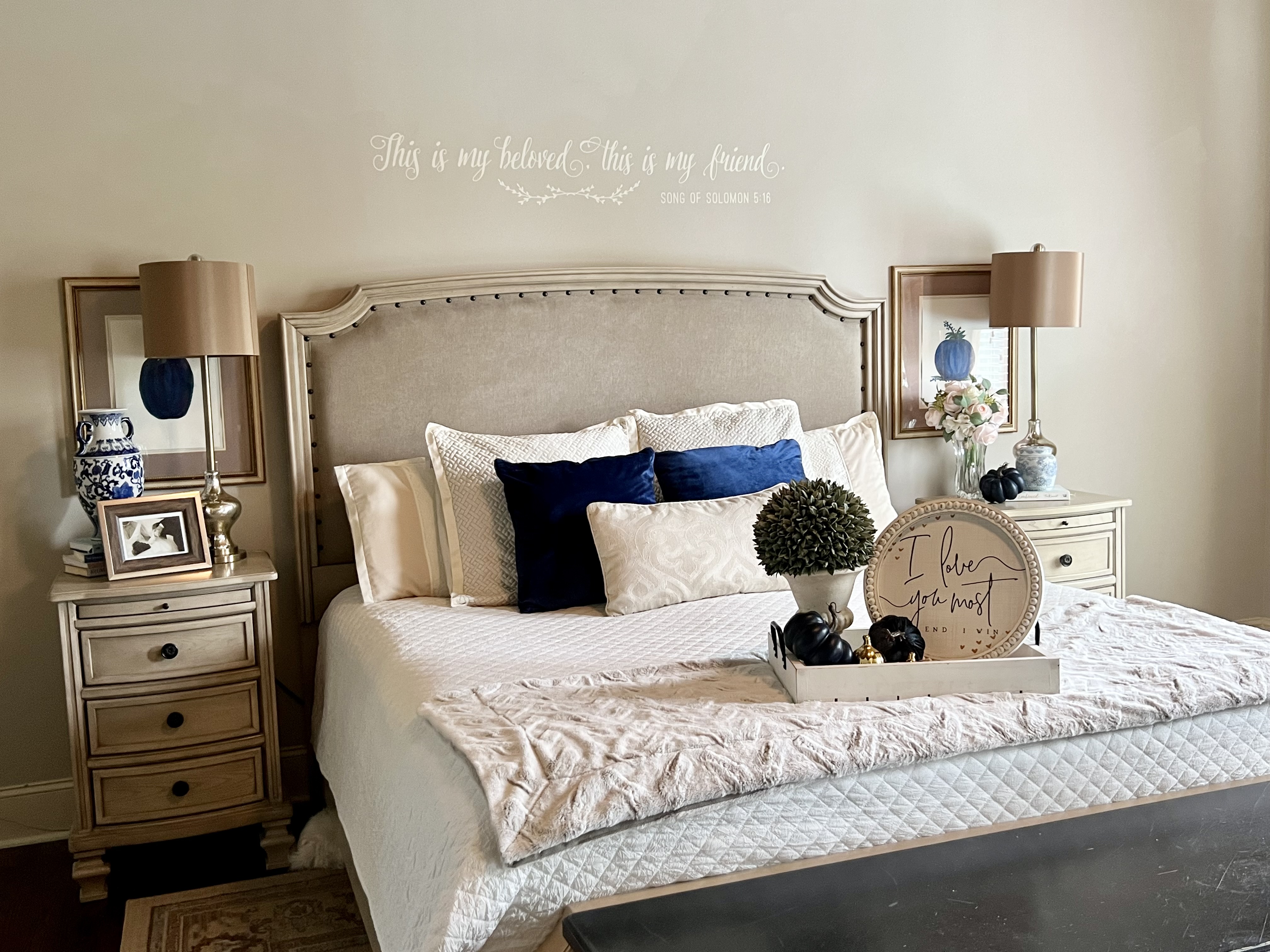 Links:
Simply Said Love you Must Beaded Round Wall Art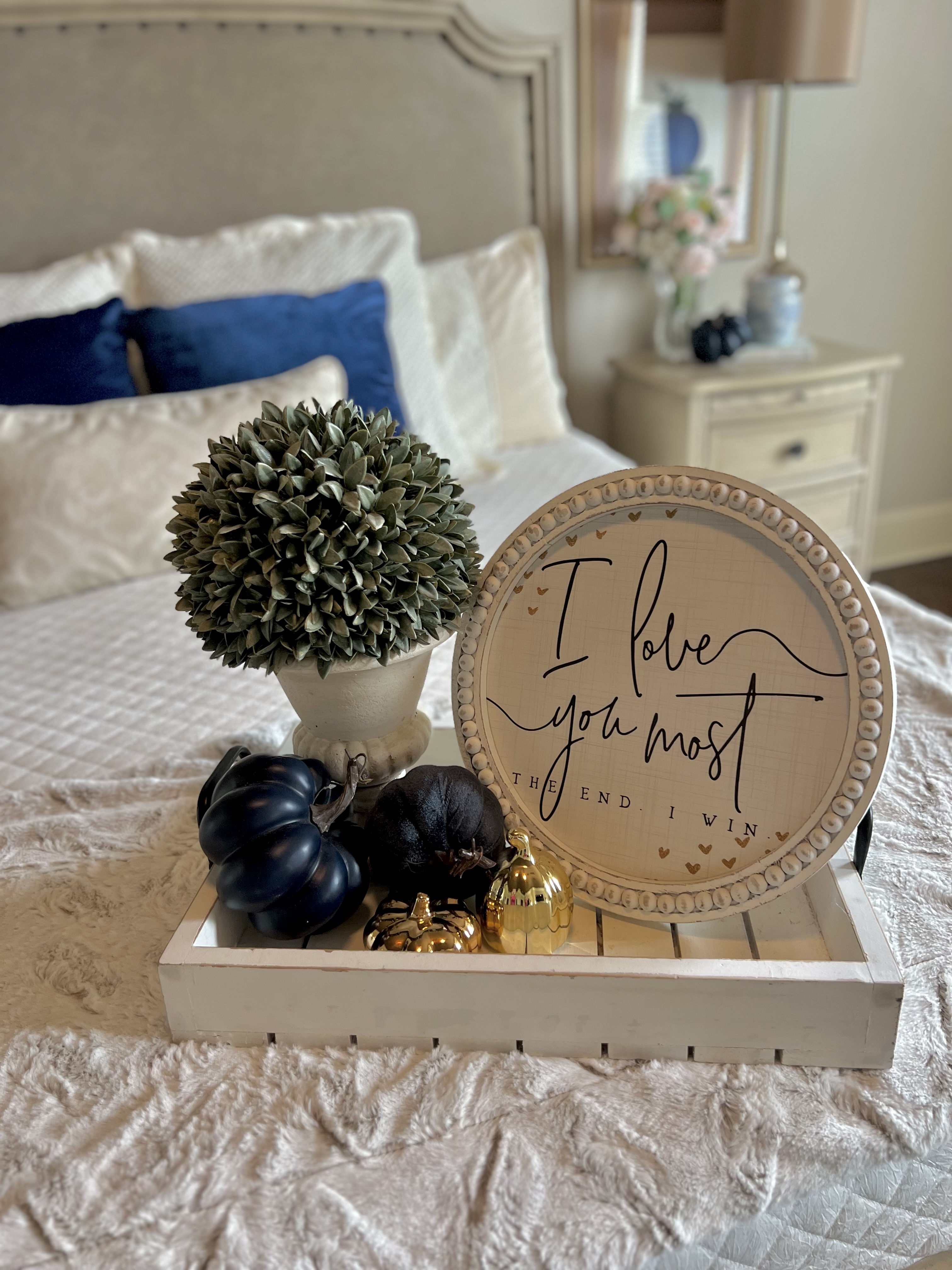 THE BACK PORCH
If you have a back yard or porch entertaining space, it's always fun to add fun and festive décor to make it come alive. Fall greenery, pumpkins, mums, seasonal pillows and throws make it quick, easy and affordable to change things up in a flash. Here are some ideas to inspire you.
Creating Cozy Vignettes for comfortable lounging is what Fall is all about. I'm in love with our Simply Said Pillow Hugs. You can change out decor easily and not have a million pillows to store! I love our Pillow Hugs. This one can be found here: PILLOW HUG
The Simply Said Rustic Dough Bowl is a must have this fall. You can style it in so many different ways. My favorite is adding fall greenery, a few pumpkins and of course a beautiful Simply Said Small Talk Square.

Links: Rustic Dough Bowl Small Talk Square
STYLING TRAYS
One of my favorite things about Fall is all of the wonderful textures and colors you can use this time of year. Incorporating vintage white, cotton, galvanized steel, buffalo plaid and colorful pumpkins gives all of the fall feels on this tray.
Last but not least our Fall Bucket List is our favorite way to keep track of our Autumnal musings! I created this look by purchasing an old wood board, painted it with Chalk Board Paint and added my Chalk Creation. I like to place mine in a standing easel to display it so when we sit on the porch, we can keep track of the Fall activities we still have time to do!
We hope you enjoyed our little Fall Home Tour! Check out the bottom of the page for some links to our favorite pieces in this article.
SIMPLY SAID LIFESTYLE COLLECTION
SIMPLY SAID FALL VINYL DESIGNS